Having the same concern and finding out the solution ourselves, we would like to introduce you all to an amazing money transfer service provider: TransferWise. They make trans-border money transfer easy and safe!
Why TransferWise?
Convenience
It is fast, easy, and simple to transfer money overseas using Transferwise. The transferring process is completely online and works perfectly across devices. You can sit at home and transfer your money from your home country to Germany at any time - day or night, on any device - smartphones or tablets.
All you need to do is to create a free TransferWise account and follow their easy-to-do guides. Your recipient doesn't need to have a TransferWise account to receive your money.
We said it's fast to transfer money via TransferWise but how fast is it? You would like the answer: only a few days or sometimes only one day! It's possible that you send the money today and it shows up at the receiving account tomorrow.
Lowest possible and no hidden fees
Overseas transfers at TransferWise use mid-market exchange rate or what TransferWise calls real exchange rate. It's the rate you see on Google, XE or Yahoo Finance. This will save you from the expensive exchange rates usually disguised in the form of zero commission or free transactions.
You will see the costs for your overseas transfers upfront and be assured that you will only pay what you see!
High security
TransferWise is a member of the Financial Conduct Authority (FCA) - an organization that protects consumers against frauds, unfair pricing and ensures a healthy operating environment for financial firms to develop. That is to say, you are protected with TransferWise just as much as you would be with banks.
Step-by-step guide: how to transfer money via TransferWise
Are you impressed by what TransferWise has to offer and considering using TransferWise to transfer your money to Germany or other countries worldwide? In that case, here's a guide to use TransferWise in detail. Follow these steps and rest assured that your money will be sent to wherever it's supposed to be within a blink of an eye!
Step 1: Go to TransferWise's website: https://transferwise.com/ and create a free account.
Depending on your country, it may take up to 4-5 days to verify your account.
Step 2: After logging in, you will see the following page. Let's click on "Send money".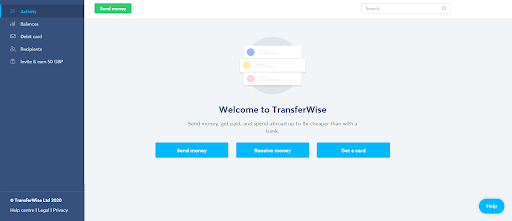 Step 3: Check your fees upfront
On the right of the page is TransferWise's calculator which shows you all the fees charged upfront and also the date by which your money will arrive at the receiving account.
Let's say that you are sending money from India and want the recipient in Germany to receive exactly 1000 euro, insert this amount in the "recipient will get exactly" and choose the currency as EUR.
TransferWise will do the maths and show you the total amount you need to send so that the recipient in Germany will get exactly 1000 euros. The gross amount you are supposed to send already includes the IRN-EUR exchange rate and total fees charged by TransferWise, which is 1,951.79 INR.
Step 4: If you are not transferring on behalf of any others, click on "Personal" and fill in your details.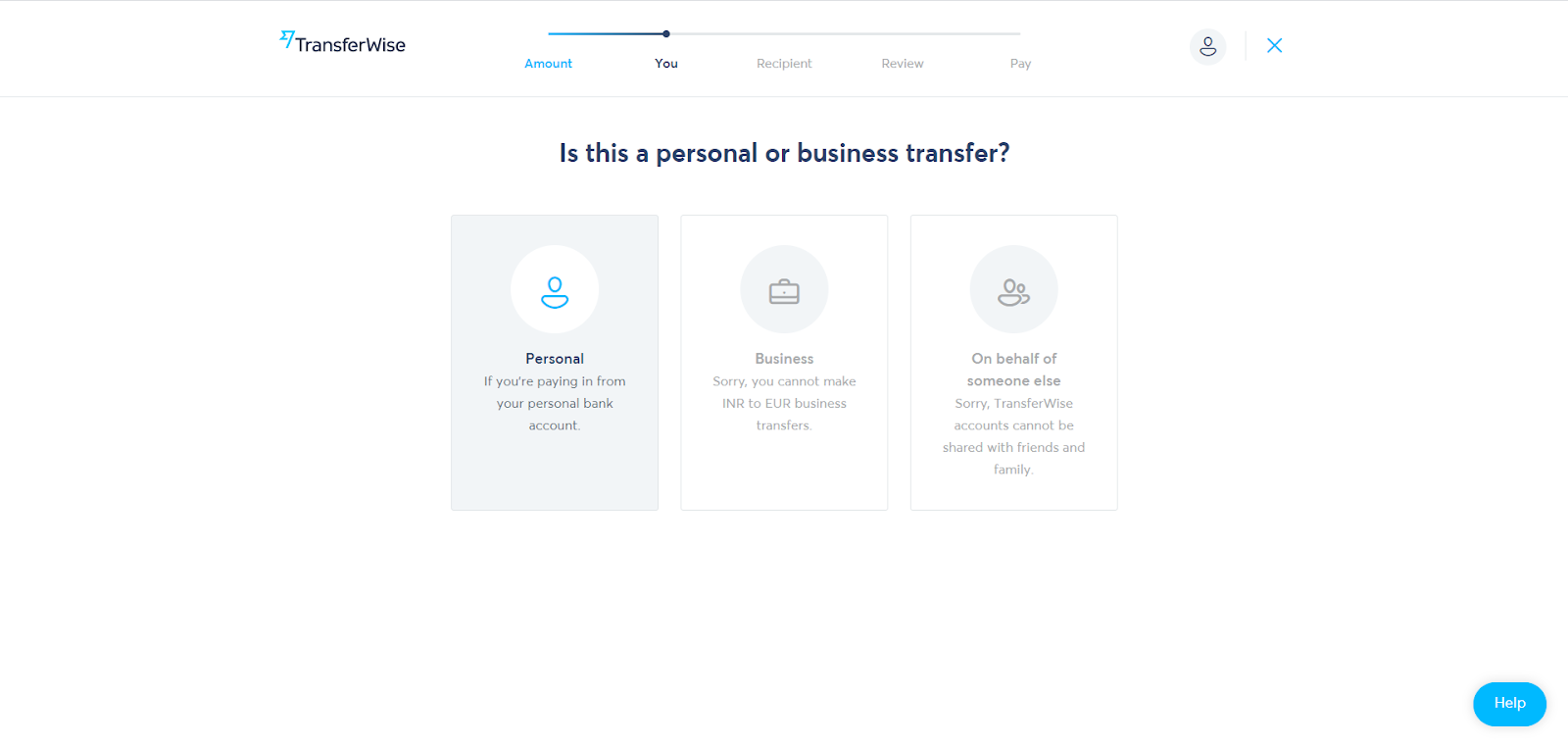 Step 5: Click on your recipient. Pretty simple, right? Let's say you're sending money to someone else.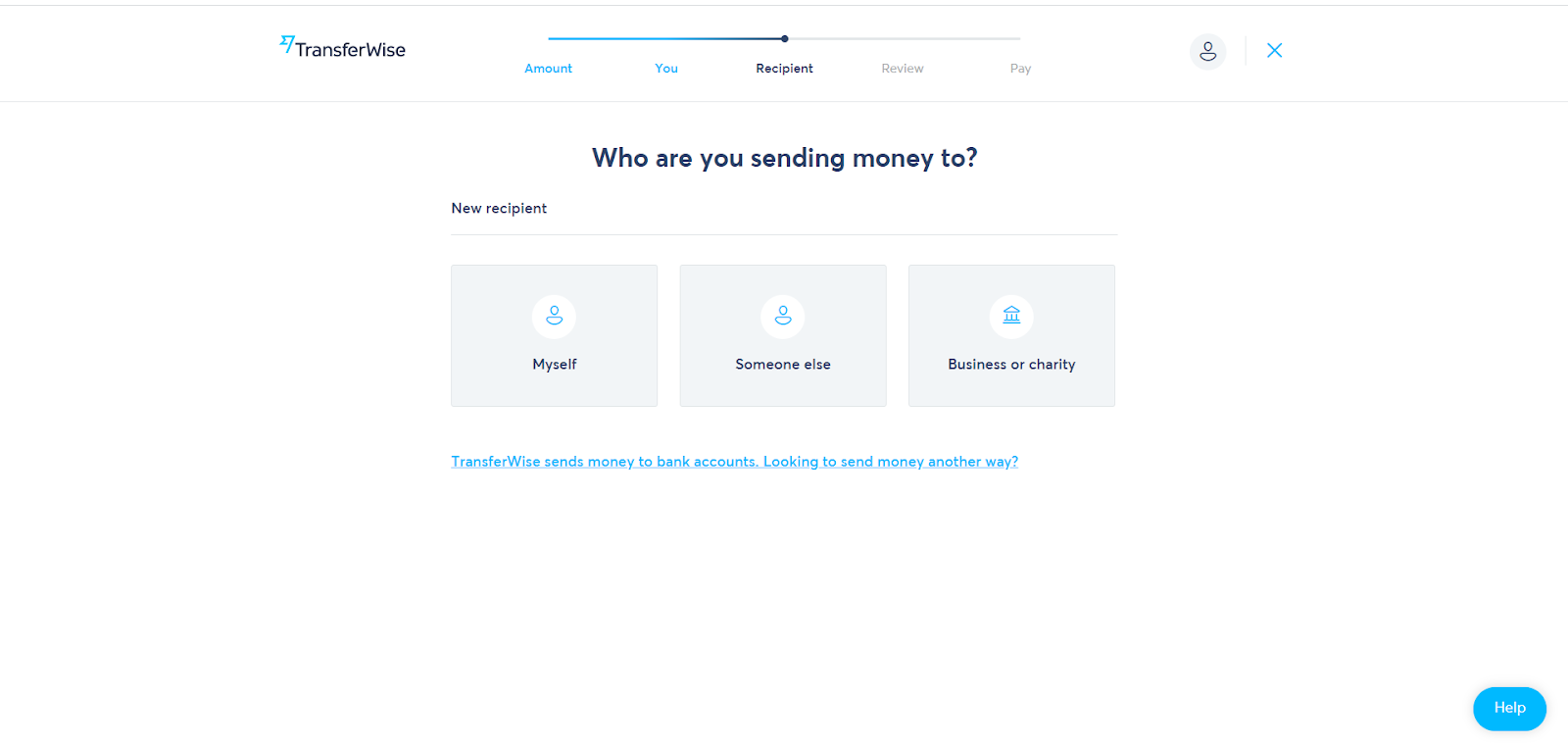 Step 6: Fill in your recipient's details
IBAN is an international identification number of a bank account, usually used for international transfer. Your recipient will send you their IBAN and if they don't, ask for one. Otherwise, there's no way you can send the money.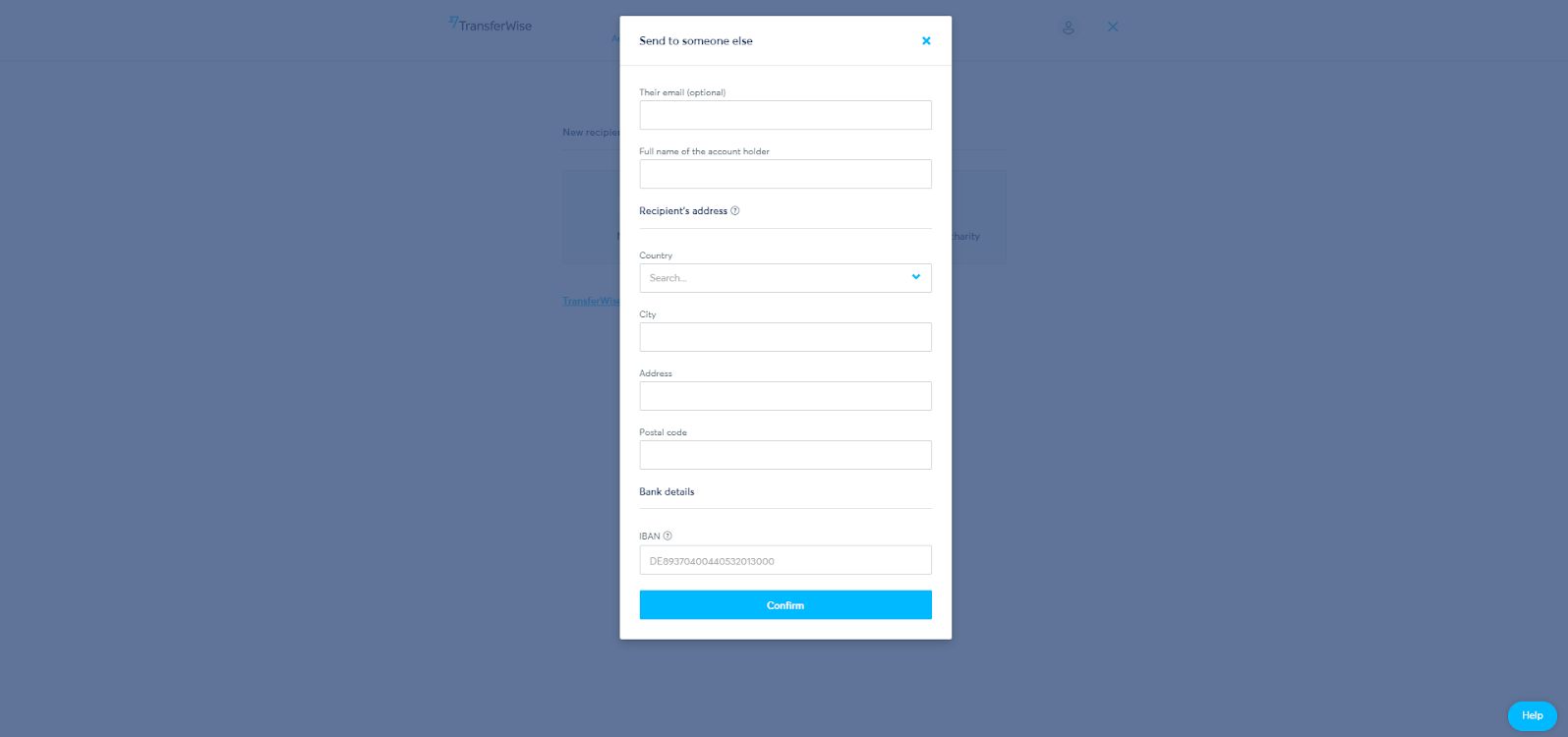 Step 7: Identity verification (tentative)
If this is your first transfer with TransferWise, you will need to verify your account by uploading your ID document (i.e. passport, national ID, or driving license). Remember that it must be in a photo format as PDF is rejected.
Step 8: Review details of your transfer
You are going to see all the information including the amount of money, your details, and your recipient's details. Make sure everything is correct and if you spot any mistake, you can always go back to change it. No worries - just make sure every information is accurate.
Step 9: Let's go to the very last part: How would you like to pay?
There are four options namely debit card, POLi bank transfer, credit card, and bank transfer. Each has its own pros and cons but here we would like to focus on bank transfer as it can be (just a bit) more complicated than the other ones. The good news is it can save you from daily limits (unlike debit card), security risk (unlike POLi transfer), or additional fees (unlike credit card).
TransferWise will send you their bank details, depending on where your bank account was originally opened. For example, if you are sending money from an Indian bank account, you will receive TransferWise's Indian bank account details.
Remember to use the reference number TransferWise gives you so that they know it's you who sent the money. You can put this in the transfer description, which is usually optional from the sending bank but this time, it is a must. Never ever forget your reference number!
Finished it all? Now, lay back and enjoy yourself as there is no more complicated international money transfer. TransferWise will take care of the rest!
You can use TransferWise to send money to your blocked account opened at EDUBAO - as you can see, it's fast, cost-effective, and secure! If you have any questions regarding the transfer and blocked account, let us know. You're never alone on your journey to Germany!