Part of preparing for your study abroad involves sending money abroad. It can be for your blocked account, application fee, living expenses from your parents, etc. But it's quite troublesome to send money internationally, especially when it's your first time, isn't it?
But don't worry! Global payments providers would come in and save the day. In this article, we will introduce you to one of the prominent service providers: InstaReM. Read on to find out what's special about them and get a discount code from EDUBAO. We have a surprise for you!
What is InstaReM?
Founded in Singapore and expanding worldwide afterward, InstaReM is now an international money transfer service provider.
InstaReM is currently supporting transfers from the following currencies: AUD, CAD, GBP, HKD, INR, MYR, SGD, and USD to a EUR bank account. It's also possible to transfer money to non-European countries such as South Korea, China, Vietnam, etc. Check it out at their website to see if the country you want to transfer money to is available!
How cool is InstaReM?
With InstaReM, rest assured that you are enjoying a fast and low-cost cross-border transfer! You can also accumulate your loyalty points to redeem for benefits in your transactions with InstaReM.
Fast transaction
A transaction typically takes 2 business working days to be completed. Sometimes, it can take a bit longer but it's always faster than an international bank transfer.
Lowest costs
InstaReM uses mid-market exchange rates, which you see on Reuters so you can avoid the expensive rates that banks usually offer. Also, InstaReM's fee, typically amounting to 0.25% to 1% of the amount sent, is only charged once per transaction. This way, you won't need to worry about the daunting scenario where your sending bank charges you a processing fee and then the receiving bank charges you another.
Loyalty points
For each transaction with InstaReM, you will receive some loyalty points. When you save up enough, redeem your InstaPoints to get discounts on your upcoming transactions. Transfers at InstaReM are already cost-effective, but the InstaPoints will help you save even more! Don't forget to sign up for an account and use InstaReM for your every transaction across borders!
How to transfer money via InstaReM?
Now, let's move to the detailed guide to help you with your very first transaction at InstaReM! Follow these steps and your money will arrive at the right place at the right time!
1. Create an account
Sign up an account and fill in your personal information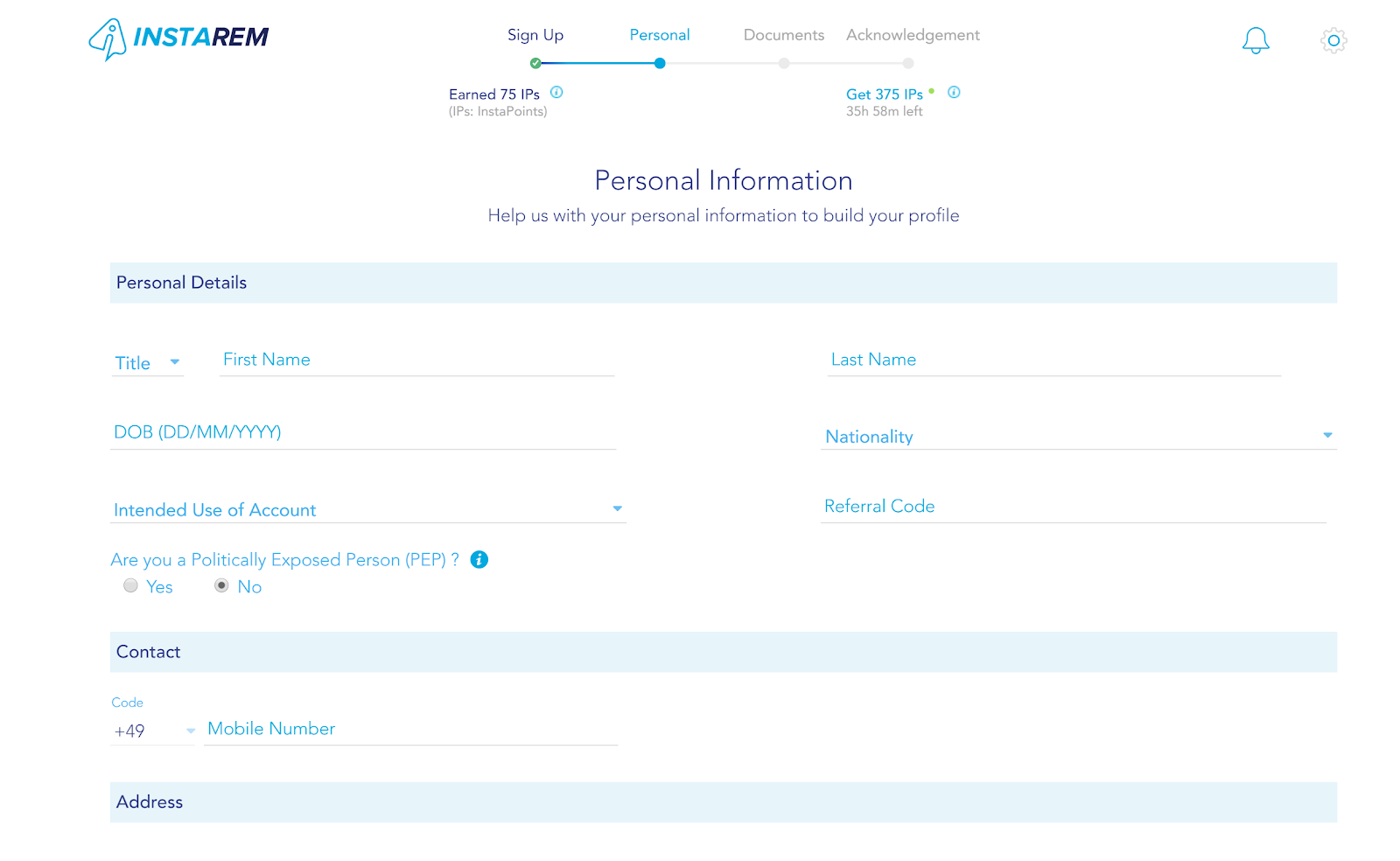 At the referral code, fill in our code "EDUBAO" to receive $10 off!
Verify your account. You can take a quick look at the photo below to see how the verification process goes.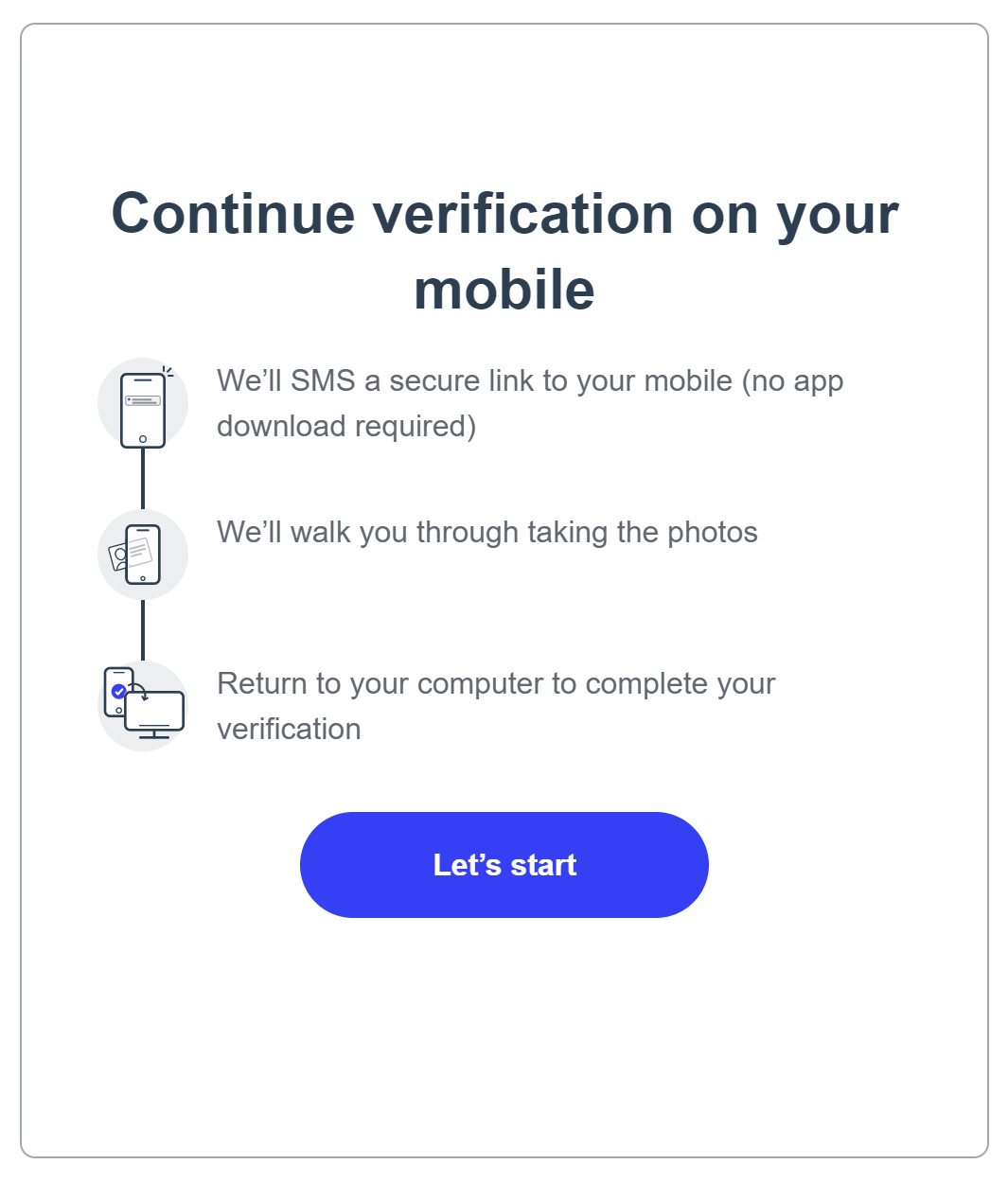 Once you have finished, your account will be activated. The process may take a few seconds or up to one day, depending on your location.
2. Add your recipient's account
You can either send your money to:
an individual account

a corporate account
There, you will need to fill in their information including:
type of the account: individual/corporate
country: the location of your recipient account
currency: the recipient account's currency
name: the corporate name or the bank account holder's name
nickname: this is up to you
relationship: put in the relationship you have with the recipient, i.e. family, self, landlord, etc.
bank details: this includes an IBAN - an international identification number that's assigned to each bank account for international transfer purposes. You will get this information from your recipient.
country of residence (applies to corporate account)/country (applies to individual account)
address: fill in the address of your recipient. It can be automatically filled up if you are sending money to a corporate account.
contact details: your email, phone, and/or theirs as well
Note: you cannot make the transfer on behalf of others via InstaReM. This is not possible at the moment.
3. Make your transfer
A. Go to Send money
B. Insert the amount of money you want to transfer there.
Let's say that you want your recipient in Germany to receive 1000 euros - insert this amount in the EUR. InstaReM will do the maths and show you how much money in your local currency that you need to send for a 1000 euro to be in the German account.
C. Select your source of funds
D. Coupon code
Do you have any coupon code here? If you do, don't forget to put it in for a discount!
E. Select your purpose
F. Payment method
Bank transfer is recommended as it's convenient via online banking and can save you from additional fees charged by other methods.
G. Fill in your bank-specific information
You can always find the information in your bank account or on your bank's official website. One important thing you should keep in mind is the bank account information you provide InstaReM must be registered under your name - who initiates the transfer on InstaReM.
H. Review your transaction details
Make sure everything is correct! If you spot any wrong information, you can go back and change it.
I. Authorize your transaction
After reviewing, you can go on to authorize the transaction. By clicking on the verification code/OTP, which is sent to your phone number and email address, you can authorize your transaction.
J. Receive your confirmation email
You'll get forwarded to a webpage and receive a confirmation email from InstaReM. Information such as your transaction ID, beneficiary name, currency and the amount of money to be transferred, the fees charged by InstaReM, and InstaReM's bank details, is all available there. Send the exact amount of money indicated in the email/page, otherwise you would either send more or less than required. In case of excess payment, you will have to wait for 72 working hours to get your refund.
4. How to pay to InstaReM
InstaReM will give you their bank account so that you can proceed with the transfer. You can do this with online banking or visit a bank branch physically - either one is good as long as it's convenient for you.
Again, there's that one important thing you should keep in mind: the transfer must be sent to InstaReM under the name of the person who has initiated the international transaction on InstaReM. It means if you use InstaReM to send your money to Germany, then it also must be you, not your parents nor anyone else, who sends the money to InstaReM.
That's everything you should know about InstaReM. We hope it's clear. Now, you can go to the website to take a closer look and sign up for an account! Don't forget to use the EDUBAO code for $10 off your first transaction!
Besides, InstaReM and EDUBAO have partnered up to make your journey to Germany worry-free. If you have any questions regarding money transfer to Germany, don't hesitate to contact InstaReM or EDUBAO via email or the EDUBAO Chat in our EDUBAO App. It's our pleasure to stay connected with you.