What is an application portfolio?
An application portfolio (in German: Bewerbungsmappe) is a set of application documents and includes:
typical layout of a German application portfolio
You can send your application portfolio via post or email in a PDF file depending on the preferences of the company. By post or email, the information and documents of application are the same and fit the company's requirements.
Document order in the application portfolio
There are certain guidelines for the document order in a classic application portfolio:
The outer shell (äußere Hülle)
If you apply your portfolio by post or submit it in person to the company. You need an outer shell to contain your application documents.
Many applicants are wondering which folder they should use for their application documents: a simple spring binder or a high-quality three-part folder? favorable plastic or premium cardboard shell?
The right decision may depend on the applied position. Pay attention to the recruiters´ expectations. If you have a chance to talk with the recruiters prior to your application, you can ask what type of folder they want. Many recruiters prefer simple spring binders because they can easily take out the documents (cover letter, resume, etc.) from the application folder. Other recruiters appreciate the three-part application folders because they can read them in parallel.
The application should express your personality. However, pay attention to formality, e.g. the folder should be in a classic color.
Cover letter (Anschreiben)
The cover letter represents your motivation for a position and should show a connection to the employer. The length should not exceed two pages, ideally within one page, and answer the following questions:
Why do you apply for this position? - e.g. interesting tasks, career opportunities, new challenges, etc.
Why do you choose this company? - e.g. market positioning, industry, products, corporate image (employer branding), etc.
Which professional qualifications do you bring? - e.g. further education, practical experience, intercultural competence, social engagement, etc.
What is your motivation for this job? - e.g. visions of the company, career opportunities, variety of tasks, chances for individual achievements, etc.

Why should the company hire you? - e.g. industry knowledge, practical experience, soft skills, negotiation ability, specific focus (in professional life), etc.
Covering page (Deckblatt) - optional
The covering page is the first page of the application and normally serves as a business card. There are many different ways to present this page, but in general, the following information should be provided: headline, contact details, application photo.
The headline is the title of the covering page and should be written larger than the rest. This can be "Application as …", "Application for the position ...", "Speculative application", etc. It should be clear to the recruiters that it's all about "an application" for the recruited position.
Your contact details can be written in the header, the footer or in the actual text box but must be clearly visible and include your name, your address, your mobile number, your email address. In addition, you can add your date of birth, but this is optional.
The application photo should look professional and is usually placed centrally on the cover page. If you also want to include a photo on the CV, you should take a different one so that recruiters can get another impression of you.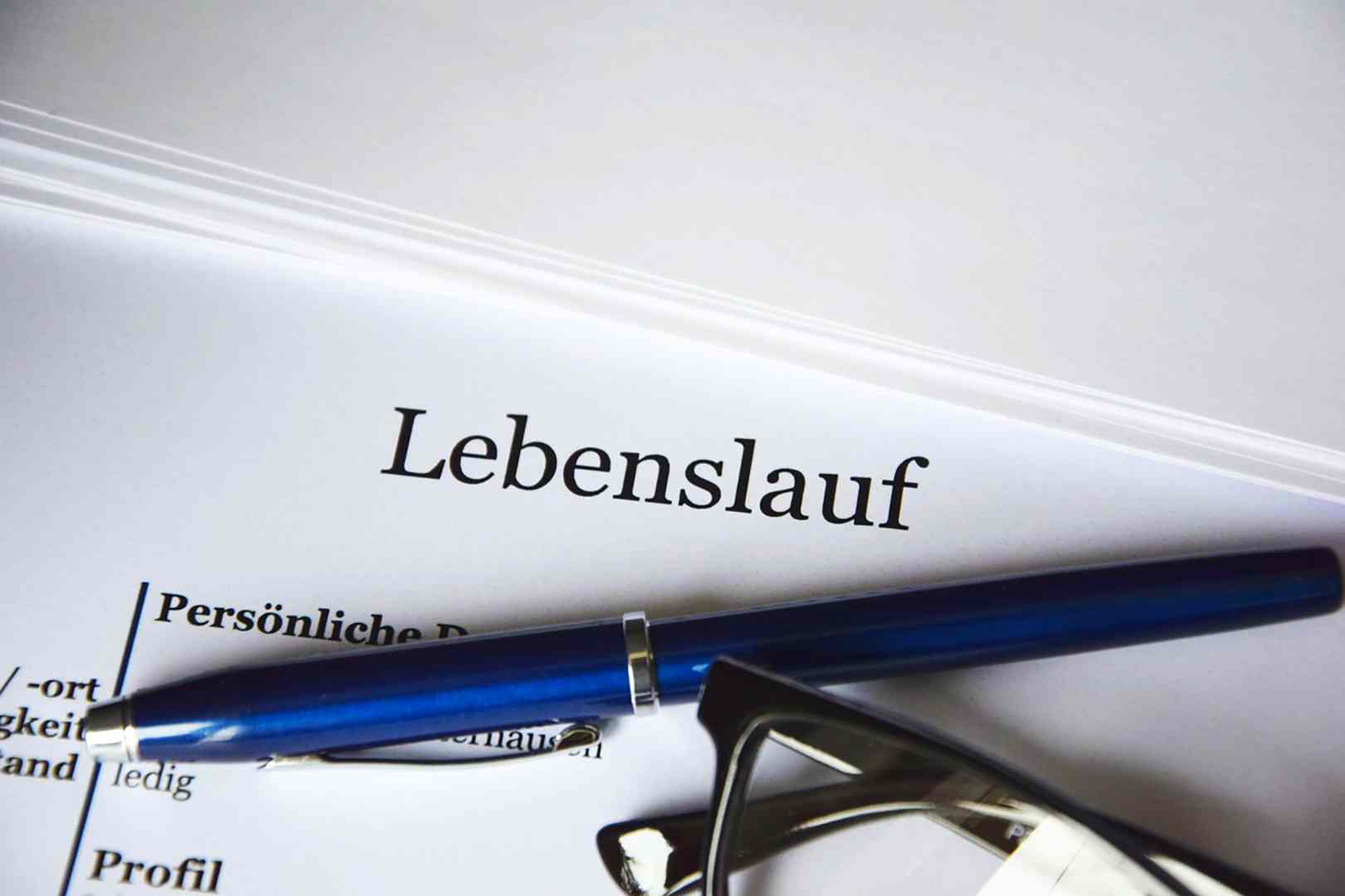 Curriculum Vitae (Lebenslauf)
A CV should not exceed two pages A4 and is roughly made up of these following 5 components presented in clear structure:
personal details: first name, last name, date of birth, place of birth, current address, telephone number, email address, application photo (optional)
professional background: previous positions, names of companies you worked for, working periods, job description, training, and internships
academic background: your higher education institutions and faculties, your completed studies, study period, specialized fields, your final grade (optional)
interests: hobbies, volunteers, social engagements
date, signature
The personal information is at the top of the resume. In particular, your full name (first name, last name) should emphasize big and bold. A photo is optional, but if you want to include it in your CV, make sure it looks professional.
A convincing CV depends on your professional career which we recommend you to present in reverse chronological order. This means that you start with the current activity and then the previous ones. Recruiters are interested in four important details: working period, your old companies, your previous position(s), your tasks and achievement.
Your academic record should also be presented in reverse chronological order. This means that the latest degree comes first, then you write backward in time to primary school, but normally, recruiters just care about where you earned your Bachelor/Master/Ph.D.
Your interests may comprise soft skills, commitment or experience which you can add to emphasize your strengths and potentials.
Formally, the resume must be completed with place, date, and signature to underscore that the given information is true.
You can read more in our article about how to write a good German CV:
Certificates (school / study / vocational training)
Certificates/credentials (e.g. language courses, computer skills, awards)
Internship and employment certificates
The application portfolio should present the applicant in the best possible way to convince recruiters. Therefore, review it and make sure that everything is correct and in the right order. A clear structure saves a lot of time and additional work. Good luck!