Three basic options for German sim-card include mobile phone deals, mobile contracts, and prepaid sim cards.
Mobile phone deal: You will sign a contract to get a mobile phone for free and then pay monthly service fees.
Sim-only contract: This type of contract provides mobile services only and lasts at least 2 years. If you want to cancel the contract, you will need to apply for the cancellation approval 3 months in advance. The contract value is based on the number of messages, calling minutes and mobile data you can use.
Pre-paid sim card: No contract is needed but you need to recharge your plan upfront. Different providers will have different packages for pre-paid sim cards so remember to check them out before buying one. How much you need to pay depends entirely on how much you use.
Comparison
To further help you make the best choice of mobile packages, we will present you with a comparison table to highlight the advantages and disadvantages of each type.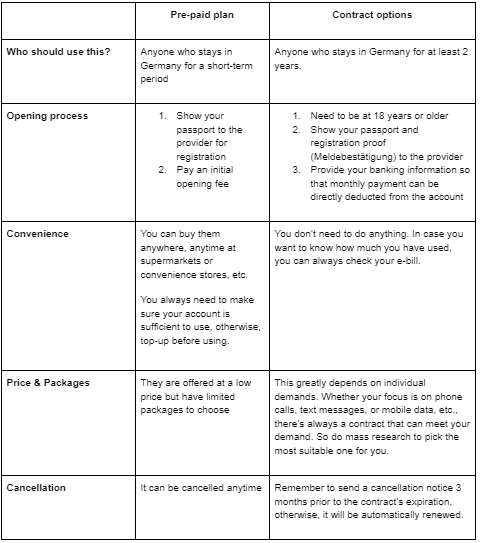 Some other important tips for contract options
If you plan to stay in Germany for a longer period than just a few months, we recommend you have a mobile contract since it's going to be cheaper and more convenient in the long run. You will have discounts, bonuses, etc., with a long-term contract so there's no reason you shouldn't opt for one.
Some other questions you may also ask is whether you can use your phone and sim card right after arriving in Germany, the answer is yes, for your phone, but probably no, for your sim card. In fact, it depends on different countries. If you can buy a one-week roaming package in your home country in advance, then your sim card is still active in Germany. Otherwise, here's what's likely to happen:
Your cell phone isn't getting any signal in Germany
Your service provider will provide an automatic international roaming service but at a very high price.
Pay attention to this so that you can plan everything beforehand.
Costs
The actual cost of a monthly package for mobile contracts highly depends on your individual demands and of course, the providers. Some of the most popular ones are:
The competition among them is high, so you can take advantage of this to get relatively low prices, €10-30 on average. In addition, when buying a sim card with a contract, pay attention to the price for the first and the second year to see if the prices are the same or there's a big gap between them. You don't want to pay a very cheap price at the beginning and a ridiculously expensive one next year, right?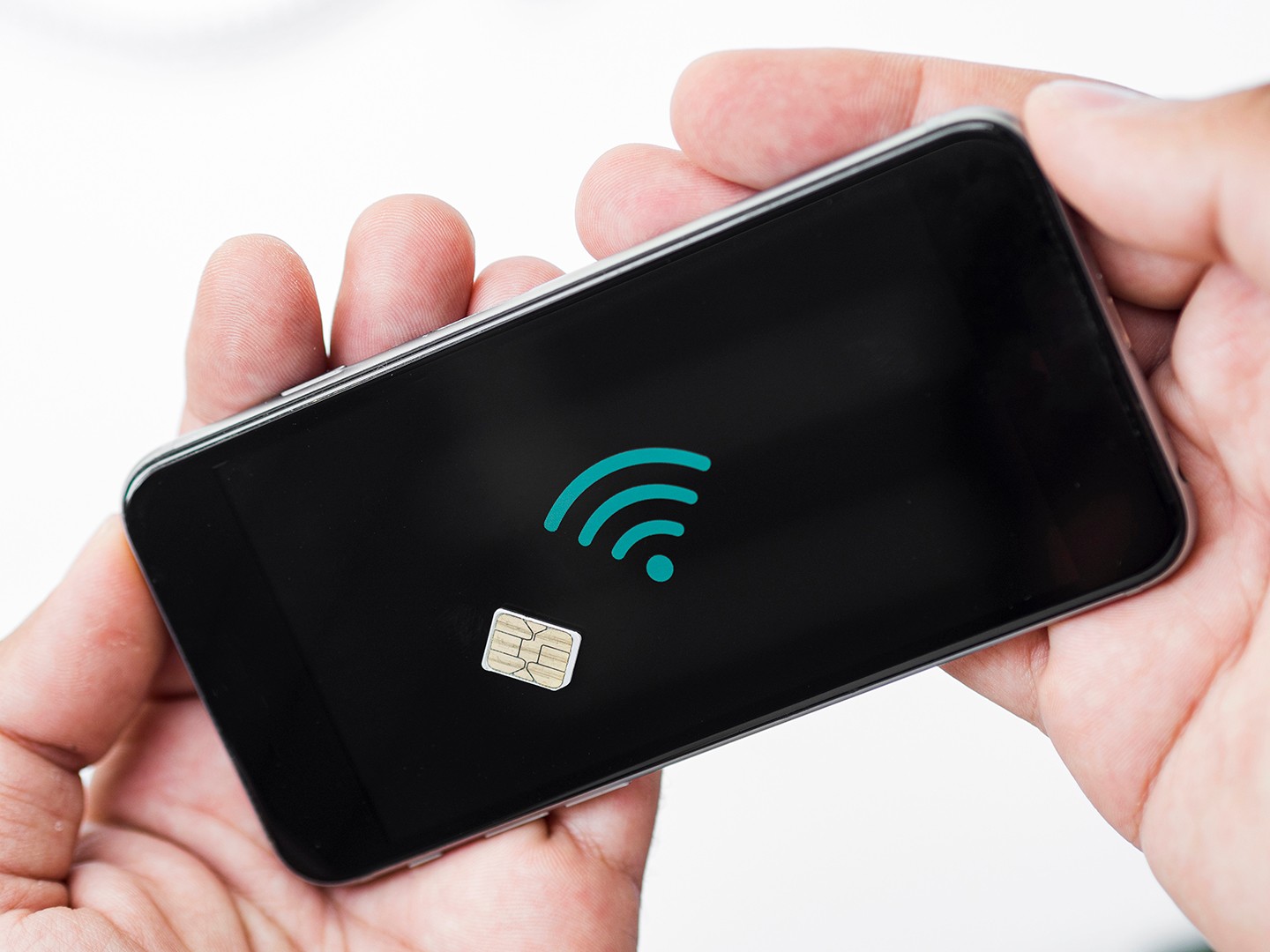 Contract cancellation
With contract cancellation, it is a little tricky. Sometimes people will need to leave Germany earlier than expected or just simply go back to their home country after graduating. At this point, you need to give your provider authorized documents to prove that you are leaving Germany and ask for contract cancellation.
Before signing, ask the providers if it's possible to cancel the contract this way. And if they do accept your request, you may need to pay a 3-month amount of money as a cancellation fee. If you don't do anything and just leave Germany, your credit rating will drop and we can't guarantee that your next visit to Germany or other EU countries will be possible. This risk is not worth taking so just go with the rules and everything will be short and sweet.
We hope this article can answer your questions about German sim cards. If you have any other questions relating to life and study in Germany, feel free to ask contact EDUBAO. Our team is always eager to help you out!