German skills and assessment framework (GeR)
You can demonstrate your language level with two different tests for study in a higher education institution in Germany. One is the DSH (German Language University Entrance Examination for Foreign Applicants), and the other one is the TestDaF (Test of German as a Foreign Language).
Before diving into the two main German tests you may be required to take, you need some background knowledge regarding the assessment framework - GeR.
GeR - Gemeinsamer europäischer Referenzrahmen für Sprachen
Many a time may you have heard that German B1 is the starting level for you to study in Germany. But what does it mean by B1 and how to know if your German is at this level? The answer lies in the following table, which is a detailed description of CEFR (German: GeR - Gemeinsamer europäischer Referenzrahmen für Sprachen). This is a common framework used in Europe to define the linguistic levels for European languages including English, German, Italian, Spanish, etc. We would also use this framework to describe the language skills in other articles about the German language in the future, so it's necessary that you read this table to get an overview.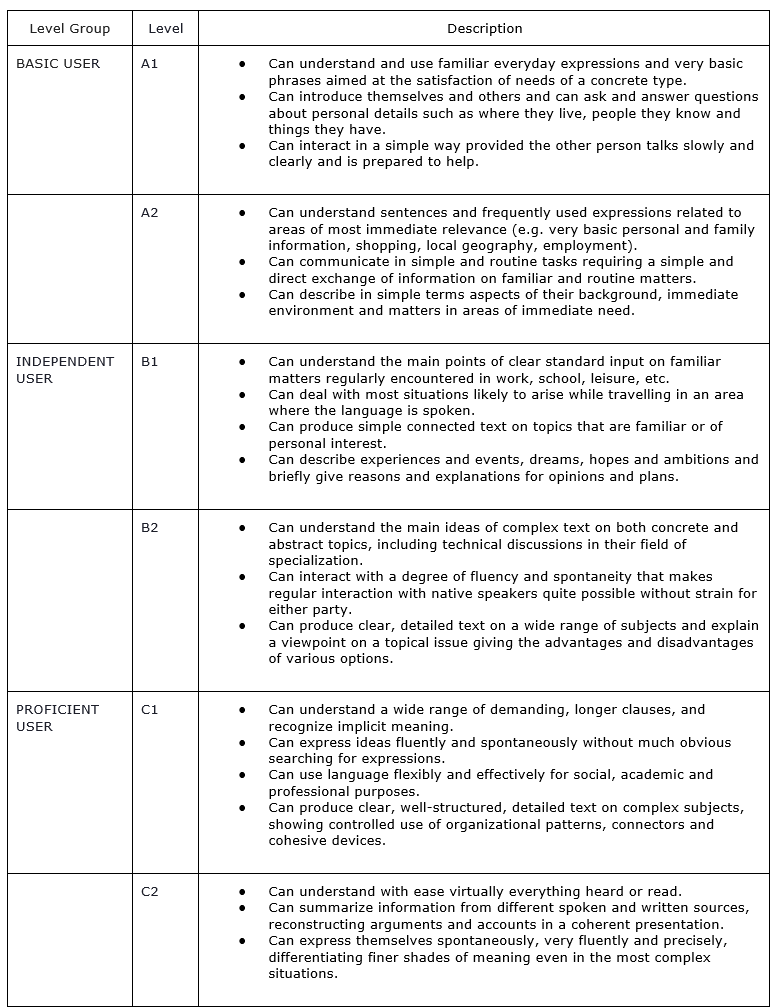 Source: Council of Europe - Common European Framework of Reference for Language
It is mostly required that students must submit a DSH2 certificate or a 4-TN4 TestDaF certificate. For students who want to study courses that require in-depth understanding of the German language such as German as a foreign language, German literature etc., they will be asked to demonstrate the language skills at a more advanced level, for example TestDaF at least 18 points (2-TN4 und 2-TN5). But if you are falling to one of the following cases, you don't need to submit your language certificates:
You have an Abitur certificate from a German-speaking high school.

You have completed the new certificate C2 of the Goethe Institute: major German Language Diploma or one of the previous minor or major German Language Diploma or the Central Advanced Language Test (till 2011) test, and you completed the Goethe Certificate C2 "Großes Deutsches Sprachdiplom" (from 2012 onwards).

You receive the German Language Diploma (phase II) from the German Standing Conference of Ministers of Education and Cultural Affairs.

You have completed the examination of the "telc Deutsch C1 Hochschule".
German tests
TestDaf (Test of German as a foreign language)
Before arriving in Germany, you can take TestDaF in your country. The TestDaF is provided six occasions a year, with the exception of three occasions in China, and is present in over 90 nations. For further information regarding test centers, schedules, charges, implementation processes, and much more, visit the portal of TestDaF.
DSH (DEUTSCHE SPRACHPRÜFUNG FÜR DEN HOCHSCHULZUGANG)
Unlike the TestDaF, only in Germany can you take the DSH (Deutsche Sprachprüfung für den Hochschulzugang= German Language University Entrance Examination for Foreign Applicants). The exam is offered by many universities, so you should contact the International Office at your university for information on upcoming testing dates. You can also take DSH preparation courses at universities. Once you get an admission letter for these courses, you can enclose it in your visa application to Germany.
Learning German
When you have decided to do a German-taught degree in Germany, learning German is the first thing you should consider. If you don't have any German skills, we would like to suggest you to learn in your home country first, so that you will get a detailed guidance in your first language, which is especially useful at the beginning of learning a foreign language. As soon as you are getting more and more familiar with this language, you can also choose to learn German in Germany. For example, there are usually summer language schools or winter language schools held during the vacation by the language centers at the universities. At these vacation language schools, which are called Sommerkurs or Winterkurs in German, you can also learn more about German culture and people. A comprehensive catalog of lessons for languages and brief classes is available in the DAAD database.
Various private language schools in Germany are another option. They also provide "Sommerkurs" to students from all over the world. Check this German course and provider database to find out more language schools in Germany. And of course, speaking of learning German, we cannot forget Goethe Institute, a cultural organization representing the Federal Republic of Germany globally. This is a highly recommended place to learn German, both in your home country and Germany. The Goethe Institute provides German classes worldwide as well as in 13 places in Germany. More information can be found on the Goethe Institute website.
You should not only study German for university admission but also for your everyday life. Keep in mind that knowing German is a major factor in making German friends faster and feeling more home-like in Germany. Check out our article on
for more interessting learning websites.